Show-stopping chicken salad
Show-stopping chicken salad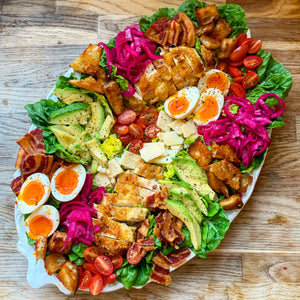 Based around a traditional Cobb salad this is the ideal way to make a colourful and show-stopping dish that feeds the whole family or looks great at a BBQ or as part of a spread. You can substitute any or all of the ingredients depending on your tastes and what you have in the fridge and make larger or smaller depending on the number of people you're catering for.
Ingredients:
Method:
Line a baking tray with foil and roast the chicken breasts in a 200 degree oven for 25-30 minutes or until the juices run clear. Add the streaky bacon to the tray after 15 minutes.
Boil the eggs for 6.5 minutes, 8 minutes if you want them harder
Remove the breasts and add a knob of butter to the roasting tin with the bacon and chicken fat, add the sourdough cubes and make sure they are well coated in the butter, reduce the oven heat to 150 and put in the oven for 10 minutes - keep checking on them as they go from golden to burnt, quickly!
Pull the larger leaves off the Little Gems and place around the edge of your serving dish then shred the heart and scatter over the middle
There is a quick pickled onion recipe here
Assemble your salad to your liking or get the kids involved!