Nick Wood's ULTIMATE Burger!
Nick Wood's ULTIMATE Burger!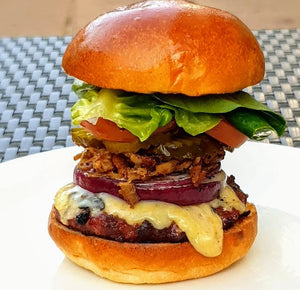 Have we got a treat for you!! Nick Wood has blessed us with this incredible ULTIMATE burger recipe, just in time for those Bank Holiday BBQs we know you will all be having!
Stay tuned for more of Nicks amazing BBQ recipes over the weekend!
For the Pulled Pork (this will need to be started the night before)
150g Dark brown sugar
1.5 Tablespoon Fine sea salt
1 Tablespoon smoked paprika
1 Teaspoon cracked black pepper
Small amount of apple juice
Rub all the dry ingredients over the pork, cover and leave in fridge overnight
Next day remove the pork from the fridge.
Pace a touch of apple juice in a roasting tray.
Place rack on top and place on pork, cover with foil
Place in oven and cook at 150C for around 4 hours or until the pork is very tender & falls apart, then remove.
Allow to cool slightly then shred the meat and put to one side ready for the burger
For the Burger
On a hot BBQ, char grill your burger on both sides until juices run clear
Whilst still on the grill, top with grated cheese and allow to melt, then remove from the grill
Char your red onions on the grill next to the burger (they won't need as long to cook)
Place on base of the brioche bun
Top with charred red onions, pulled pork (still warm) and finish with Gherkins, tomatoes and baby gem
Add the top of the brioche bun
ENJOY!