Wild Garlic, Parmesan and Hazelnut Pesto
Wild Garlic, Parmesan and Hazelnut Pesto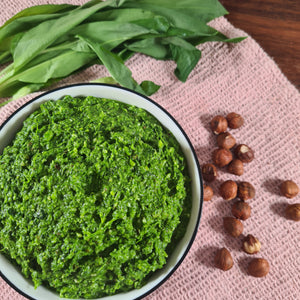 Delicate, seasonal Wild Garlic & Hazelnut Pesto. This vibrant pesto is perfect with chicken, fish, or even mozzarella! Of course, stir into pasta or use as a garlicky Bruschetta topping!
You can shop the ingredients here!
Ingredients;
Method;
Remove the shells from the hazelnuts and toast the hazelnuts in a pan for a couple of minutes. Then pour the hazelnuts into a tea-towel and rub them to remove the skins.
Add the wild garlic leaves and olive oil to a blender and pulse
Once blended, add the hazelnuts and garlic and pulse again until it becomes a pesto consistency 
Serve fresh or jar to save for later, and enjoy!