Buttered Leeks
Buttered Leeks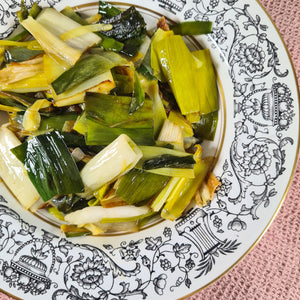 Another one for the Mother's Day roast dinner table! These gorgeous buttered leeks are incredibly tasty, buttery, and flavourful. Perfect to compliment any meal or mix it into mashed potato for some extra flavour!
You can shop the ingredients here!
Ingredients; 
Methods;
Make sure to thoroughly clean the leeks before cooking
Chop up the leeks in half longways, and chop into roughly 1 inch pieces
Rinse again to remove any residue dirt
Once the leeks are dry and clean, add the butter to the pan on a low heat
Melt the butter, then add the leeks and salt
Stir every 5 minutes until completely softened and starting to go golden brown (about 30 minutes)
Serve warm and enjoy!