Roasted Asparagus with Hazelnuts and Parmesan
Roasted Asparagus with Hazelnuts and Parmesan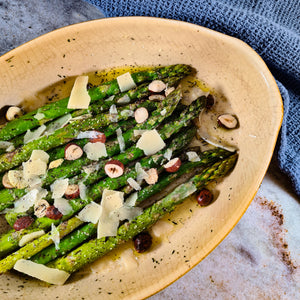 Asparagus season is here! Our chef's hats are on ready for all of the yummy asparagus recipes this season. Today we're enjoying Roasted Asparagus with Hazelnuts and Parmesan.
You can shop the ingredients here!
Ingredients;
Method;
Preheat oven to 180C
Remove the shells from the hazelnuts, then half. Trim the asparagus (use the ends to make soup!). Slice the garlic.
Place the asparagus on a baking tray, and scatter the garlic, thyme and hazelnuts over the tip.
Coat generously with olive oil, salt and pepper and shake the tray.
Roast in oven for 10 mins 
Scatter parmesan shavings over the asparagus
Serve warm and enjoy!