Goat's Cheese, Pesto, & Rocket Jersey Royal Frittata
Goat's Cheese, Pesto, & Rocket Jersey Royal Frittata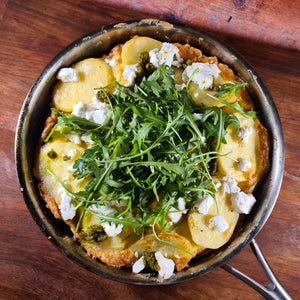 A Goat's Cheese, Pesto & Rocket Frittata made with our Jersey Royal Potatoes! This dish is filling and luxurious while also light. The ideal Spring dish for this changing weather.
Ingredients;
Method;
Preheat the oven to 200C
Thinly slice the potato and boil in salted water for 7 minutes
In a bowl beat the eggs and crush the garlic cloves into the mixture with salt and pepper. Beat well until thoroughly combined
Drain the boiled potatoes and wait until slightly cooled
Add the potatoes to the egg mixture and coat the potatoes in the egg
Heat the oil in a pan over a low heat and pour the potato mixture in. Cook for about 5 minutes until set. Then cook in the oven in the pan for about 15 minutes until golden brown and cooked through
Remove from the oven (be careful of the hot handle), crumble the goat's cheese and spoon the pesto on top. Place back in the oven for a further 5 minutes
Remove from the oven, top with the fresh rocket, and serve!