Chickpea, Tomato, Feta & Egg Hash
Chickpea, Tomato, Feta & Egg Hash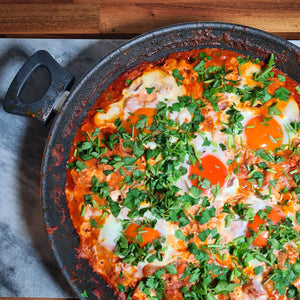 The perfect breakfast, lunch or dinner - a chickpea, tomato, feta and egg hash topped with fresh parsley... Grab some pitta bread, dip and enjoy!
You can shop the ingredients here!
Ingredients;
Method;
Half and slice the onion and drain the chickpeas in preparation
Heat the oil in the pan and cook the onion over a low heat until golden brown. Add the tinned tomatoes, cumin, paprika, salt and pepper and cook down for about 5 minutes.
Add the chickpeas and meze dip, stir and cook for a further 5 minutes
Create spaces in the pan for each of the eggs. Crack the eggs into the pan and cook covered for about 3 minutes
Crumble over the feta and parsley
Serve with pitta breads and enjoy!