Sweet and Spicy Pineapple Salsa
Sweet and Spicy Pineapple Salsa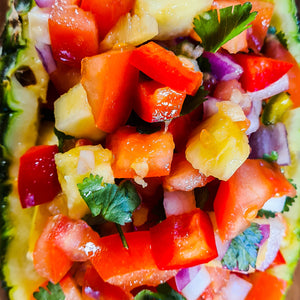 Planning taco night or looking for something to accompany your fish, chicken or pork? We've got just the thing with this exciting, sweet pineapple salsa that we simply can't get enough of!
You can shop the ingredients here!
Ingredients;
Method;
Chop the pineapple into small pieces. If you like, hollow out the middle of the pineapple and use the pineapple as a boat to serve in!
In a bowl mix all of the ingredients together 
Spoon into the pineapple bowl (if serving this way) or top on your tacos, meat or fish
Enjoy!