Creamy Vegan Pesto Alfredo
Creamy Vegan Pesto Alfredo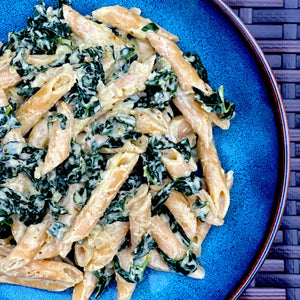 We can recommend anyone try this daring and unusual dish! Perfect for vegans or just add bacon if you have that carnivore craving. 
You can shop the ingredients here!
Ingredients;
Method;
In a large saucepan, bring water and salt to the boil and add in the pasta
In a frying pan add the cavolo nero with a small amount of pasta water and cook until wilted. Stir often to make sure it does not burnt
Once your cavolo Nero is completely wilted, add in the humous, pesto, lemon zest and lemon juice, stir to combine. For a thinner sauce add a little more pasta water
Drain the cooked pasta and add into the sauce, stir until fully combined
Plate up and enjoy!