Easy Creamy Carbonara
Easy Creamy Carbonara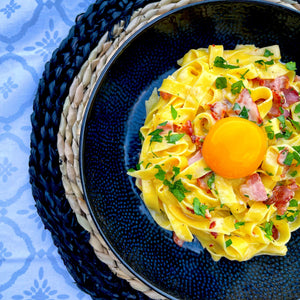 A rich and creamy twist on the classic carbonara! Adding cream and parsley to carbonara gives it a luxurious texture and flavour that we just can't get enough of!
You can shop the ingredients here!
Ingredients
Method;
Bring a large pan of water to boil with a pinch of salt, add in the tagliatelle
Add your olive oil to a pan and heat on high, add in the bacon and cook to preference (personally the crispier the better!)
Once your pasta is cooked, drain and the lace back into the saucepan. Add in 3 of the egg yolks with the cream, Parmesan and bacon. Stir until combined and add a small amount of parsley
Plate your spaghetti, sprinkling on the parsley and top with an egg yolk whilst the pasta is still piping hot
Serve immediately and enjoy!