Grilled Courgette, Asparagus and Feta/Halloumi Salad
Grilled Courgette, Asparagus and Feta/Halloumi Salad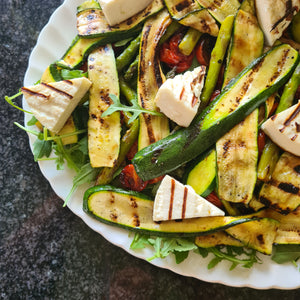 The ideal gorgeous, colourful, summery dinner. A fair amount of vegetable preparation but worth the effort! Fantastic as a side with grilled chicken or steak.
You can shop the ingredients here!
Ingredients;
Pesto Dressing
Method;
Preheat the oven to 170C and cut the tomatoes in half. Mix the tomatoes with a splash of olive oil, salt, and pepper
Bake these tomatoes for about 50 minutes until semi-dry
Prepare and blanch the asparagus for 4 minutes in boiling water, then rinse in cold water. Toss in a couple tablespoons of olive oil with salt and pepper.
Using a potato slicer, thinly slice the courgettes lengthwise. Again coat in a tablespoon of olive oil, salt and pepper. 
Heat a griddle pan to a high heat and grill the courgettes and asparagus until lightly charred on each side. Leave to cool. 
If using halloumi cheese, coat the griddle with oil and cook until golden brown.
Lastly to make the pesto dressing, blitz in a blender until smooth
Now assemble the salad, laying the rocket on the bottom, the vegetables on top, and the cheese to finish. Then drizzle the pesto dressing on top. 
Serve and enjoy!