Yorkshire Puddings
Yorkshire Puddings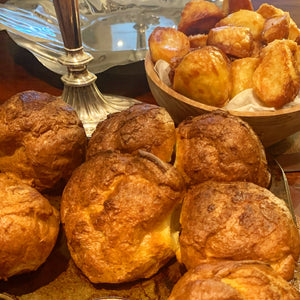 What's a roast without a decent Yorkshire pud? We know it's traditional to serve with roast beef but for us they're a staple of any Sunday roast.  This recipe will ensure light and crisp puddings every time and you can freeze any leftovers for another time.
Ingredients:
100g plain flour
3 large free-range eggs
225ml milk
4 tbsp sunflower or vegetable oil
¼ tsp salt
Method:
Preheat the oven to 220C (200C if fan assisted)
Mix the flour and salt together in a bowl and make a well in the centre. Add the eggs and a 1/4 of the milk. Whisk until smooth, then gradually add the remaining milk then pour into a jug.
Measure a teaspoon of oil into each hole of a 12-bun tray then transfer to the oven for 5 minutes, or until the oil is piping hot.
Carefully remove from the oven and pour the batter equally between the holes. Return the batter quickly to the oven and cook for 20–25 minutes until they've risen and are golden brown.