Tartiflette
Tartiflette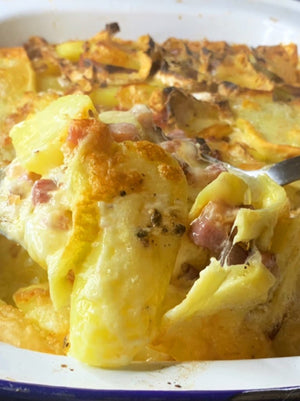 If you're wanting a show-stopping and indulgent dish then look no further than Tartiflette! Combining potatoes, smoky bacon in a luxurious cream and wine sauce topped with Kentish cheese, it's great as a side dish for steak or served with charcuterie and a bottle of Chapel Down wine.
Ingredients:
1kg Pink fir potatoes peeled
250g chopped smoked streaky bacon or lardons
2 banana shallots
1 garlic clove
100ml white wine
200ml double cream
2 whole Kent Chaucer camembert 
Salt and pepper
Method:
Preheat oven to 200C (180 if fan assisted)
Cook the potatoes in a saucepan of salted boiling water until tender then rain and set aside to cool slightly.
Meanwhile, heat a frying pan until hot and fry the bacon, shallots and garlic for 4-5 minutes, or until golden-brown. Deglaze the pan with the white wine and continue to cook until most of the liquid has evaporated.
Thinly slice the potatoes and layer with the bacon mix in an ovenproof dish and pour over the double cream. Season with salt and black pepper then layer the slices of cheese on top.
Bake in the oven for 10-15 minutes or until the cheese is golden-brown and bubbling.