Crab & chilli Linguine
Crab & chilli Linguine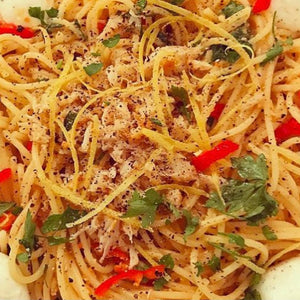 A delicious, simple, yet luxurious pasta dish using fresh brown and white crab meat. 
Ingredients:
Method:
Bring a large pan of salted water to the boil and add the linguine. Give it a good stir and boil for 1 min less than the pack says
While the pasta cooks heat 3tbsp of the oil in a large frying pan and gently fry the chilli and garlic for a few minutes so they start to release their flavours then turn up the heat and add the white wine. 
Simmer everything until the wine and olive oil come together then take off the heat and add in the brown crab meat mashing it into the oil/wine mixture so it becomes a thick sauce.
Once the pasta is ready lift out of the water and into the sauce, returning the heat and stirring so that the linguine is thoroughly coated.  Add the white crabmeat, lemon zest and parsley & stir again.
Divide between two bowls, squeeze half a lemon's worth of juice over each serving and drizzle with the rest of the olive oil.