Wild garlic chicken kiev
Wild garlic chicken kiev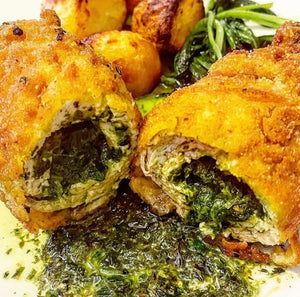 A retro classic with a seasonal twist. Made easier if you have a deep fat frier but easily achieved with a deep pan and a litre of veg oil. We served ours with roast potatoes and some wilted wild garlic, but it would be lovely with peas, purple sprouting broccoli or any other veg of your choice.
Ingredients:
2 chicken breasts
50g salted butter, at room temperature
2 garlic cloves, crushed
50g wild garlic, stalks removed
½ lemon
2 tbsp flour, seasoned
2 eggs, beaten
4 tbsp breadcrumbs, panko if possible, seasoned
Vegetable oil, to deep fry
Method:
Add the butter, wild garlic leaves, a squeeze of lemon juice and a couple of turns of black pepper into a food processer and blitz until thoroughly combined.
Form into 2 sausage shapes, and wrap in clingfilm. Put in the fridge to chill.
Open out each chicken breast using a knife, and then put in between 2 sheets of cling film and bash with a rolling pin or meat until about 0.5cm thick, being careful not to create any holes. Season both sides well.
Put a sausage of butter near one edge of the chicken and begin rolling the meat up around it, tucking in the ends as you go (use some egg and flour as glue if you struggle). Roll into a tight sausage using the clingfilm, and freeze for 2 hours.
Put the seasoned flour, eggs and breadcrumbs into 3 shallow dishes and then roll the frozen kievs in each in turn, then again in the eggs and crumbs to double coat. Put in the fridge to defrost, which should take about an hour. Preheat the oven to 150C.
Heat the vegetable oil in a large pan or fryer to 160C, or until a crumb of bread turns golden in about 15 seconds, then gently lower the first kiev in. Cook it for 8½ minutes, then drain on kitchen paper and put in the oven to keep warm while you cook the next.