Hot cross bun bread and butter pudding
Hot cross bun bread and butter pudding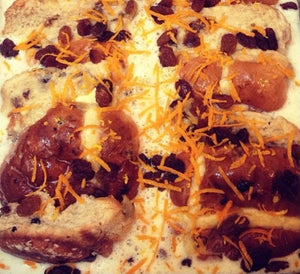 A delicious and festive dessert to round off your Easter Sunday lunch and a great way to use up any excess hot cross buns.
Ingredients:
6 hot cross buns
50g orange marmalade
400ml whole milk
3 large eggs
75g caster sugar
1 tsp vanilla extract
Finely grated zest of an orange
Method:
Slice the hot cross buns in half and spread the marmalade onto the cut side of the tops and set aside. Rip the bases of the buns into rough pieces and put into a 15x25cm baking dish.
For the custard place the milk into a medium sized saucepan and set over medium heat and bring to a boil.
As the milk is coming up to temperature whisk the eggs, sugar and vanilla together. Pour the boiling milk over the eggs, whisking constantly.
Once fully combined pour the custard into the roasting dish, soaking all the bread. Press the top of the buns onto the dessert, cut side down.
Allow the bread to soak up the custard for 30 minutes before baking in the preheated oven for about 30-40 minutes or until the pudding have puffed up and is lightly browned on top.
Allow to cool for a few minutes before serving with a little cream, custard or icecream.