New season asparagus on sourdough with lemon, walnuts, egg and chilli
New season asparagus on sourdough with lemon, walnuts, egg and chilli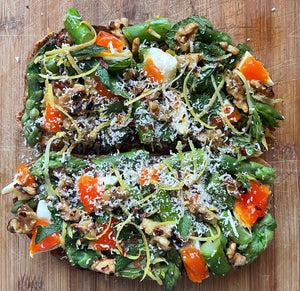 Asparagus season is finally here and take every opportunity to include it in a meal that we can! There are many ways you can adapt this dish, take off the eggs and substitute the parmesan to make it a vegan dish, add crispy bacon for the meat lover in your life or serve it with soup to make it a more substantial meal!
Ingredients:
Method:
 Boil the eggs for 7.5 minutes, throw in the asparagus for the last four minutes of cooking, you want it to have a bite to it.
then transfer to an ice-cold water bath. Leave them there while you prepare the other ingredients.
Place parmesan, walnuts, and lemon zest in the bottom of a large bowl, along with 1 teaspoon salt, many grind of black pepper, and chilli flakes to taste.  Stir to combine.
Cut the asparagus on an angle, add to the bowl with the ingredients from above, add the lemon juice and toss some more. Add mint and olive oil toss, adjusting seasoning again.
Peel your cooled eggs. Cut in half, then each half into 6 to 8 chunks. 
Arrange on the sourdough toast with the rest of the ingredients and add an extra grating of parmesan, chilli flakes and drizzle of olive oil.