Watts Farms Roasted Beetroot, Goat's Cheese & Cobnut Salad
Watts Farms Roasted Beetroot, Goat's Cheese & Cobnut Salad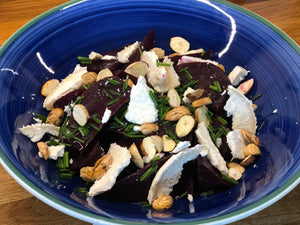 Popular with a dash of salt as an accompaniment to a gin and tonic, or served with cheese, fresh Kentish cobnuts are in great demand from August - December.  
The first flush of harvest in August sees chefs and consumers, who love the juicy green early cobs, rushing to buy and toss these tasty treats into warm salads, stirred into the shortbread mix or just eaten 'neat' with port at the end of a meal. 
The sweet cobnut flavour intensifies as the nuts gently turn a light brown in September and mature further as the shells and husks turn a darker brown in October.
Full of vitamin D and E, high in protein and the right triglycerides fats, the cobnut is a healthy choice this harvest-time. 
Ingredients;
Method;
Wrap your fresh beetroot in foil and roast in the oven for one - two hours on a medium heat. 
Mix the honey, red wine vinegar, balsamic and cobnut oil together.
When the vegetables are roasted, peel them when warm and serve with goats cheese and drizzle with the dressing. Finish with salt and pepper. 
Shell your cobnuts.
Toss the dressed beetroot with the salad leaves, crumble over the goat's cheese and top with the chopped cobnuts and chopped chives.