Croissant bread & butter pudding with salted caramel
Croissant bread & butter pudding with salted caramel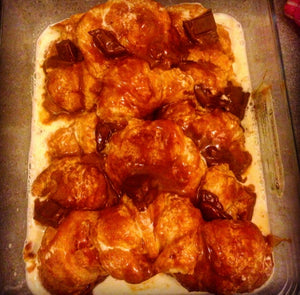 The chill in the air is putting us in the mood for cosy (and decadent!) desserts.  This croissant bread and butter pudding is simple to make but the wow factor too.
Ingredients:
Method:
Heat the cream and milk in a pan until almost boiling, then remove from the heat.  In a bowl beat the egg yolks with the sugar, then pour the cream mixture over them whilst stirring.
Butter an ovenproof dish.  Cut the croissants in half and sandwich back together with a generous smear of salted caramel (leaving some remaining) then arrange in the dish and scatter the chopped chocolate over them.  Pour the custard over them and allow to sink in for 15 mins or so.
Drizzle the remaining salted caramel over the pudding and bake in a 180 degree oven for 20-25 minutes until softly set and golden.