Toad in the hole
Toad in the hole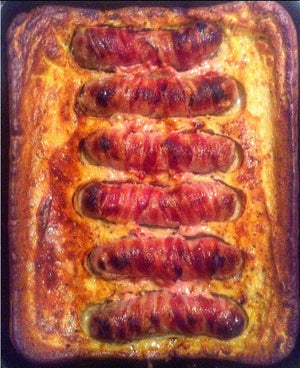 Regardless of the weather we're always reaching for the comfort food - and we can't think of a better one than Toad in the hole. This version is extra delicious as we add a little wholegrain mustard to the batter and wrap the sausages in prosciutto too! In case you needed any more persuasion... Our
Speldhurst Sausages are currently on offer for 3 for £10
!
Ingredients:
Method:
Whisk together the eggs, flour, milk, mustard and seasoning until it's the consistency of double cream, beating out any little lumps. Rest for 20 minutes.
Preheat the oven to 220 (200 if fan assisted)
De-skin the sausages then wrap each one in a piece of prosciutto
Put the lard or oil in a roasting tin and leave it in the oven until it is smoking.
Pour in the batter and then arrange the sausages in the batter, mind your fingers! 
Bake for 25-30 minutes until golden and puffed up serve with your veg of choice and onion gravy.