Watercress, Pea and Leek Soup
Watercress, Pea and Leek Soup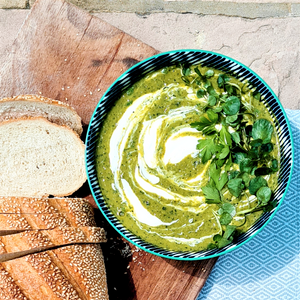 This light and refreshing soup is ideal for spring/summer. Perfect for those cooler, drizzly days or for a healthy lunch/ dinner option!
Ingredients -
Method -
Boil some water and prepare the stock.
Meanwhile, in a saucepan sweat the leeks in some oil on a low-medium heat until soft, then add the garlic and fry for around 8 minutes on a higher heat. Then turn down the heat, cover and leave for a further 5 minutes.
Add the stock and simmer for 15 minutes. Then add the peas and watercress (save a few leaves for the garnish) and cook for a further 3 minutes.
Use a head blender or pour into a food processor and blend until the soup is at your desired texture.
Lastly stir through the parsley and then drizzle the crème fraiche on top and garnish with any remaining water cress.
Butter your bread and dip!