Summery Strawberry, Spinach & Feta Salad
Summery Strawberry, Spinach & Feta Salad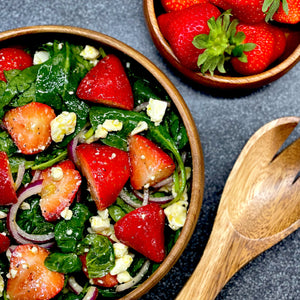 This alternative recipe is sure to wow guests and family! Our delicious Kentish strawberries add a sweetness to compliment the feta and combine perfectly with our crunchy spinach to make a summery, delectable, fresh salad.
You can shop the ingredients here! 

Ingredients;
For the dressing;
2 tbps cider vinegar
4 tbsps Kentish honey 
1/2 tsp poppy seeds 
1/2 tsp salt
Method
Make your dressing by combining all ingredients and mixing together thoroughly. 
In a separate bowl add in your strawberries and spinach and crumble most of the feta over the top (save some to crumble on top). 
Drizzle over your dressing and toss the salad until completely coated. 
Crumble over the top a little extra feta for presentation.  
If you want to add a little extra crunch, try adding walnuts into the salad.