Super Smoothie Bowl
Super Smoothie Bowl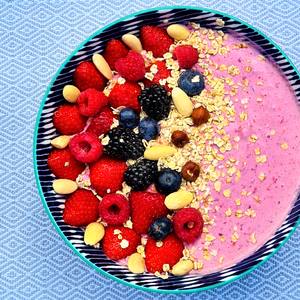 A cooling, healthy recipe for a warm spring/summer's day! Not only does this smoothie bowl look and taste amazing, but it is also packed with loads of vitamins. This is an ideal recipe for a healthy dessert or filling breakfast. This recipe serves two.
Ingredients:
Method:
Freeze the berry mix and bananas the day before. Alternatively, include around 6 ice cubes in the mix.
Pour the bananas, berry mix, milk, yoghurt, and honey into a blender. Blend ingredients until thick in texture and spoon into a bowl.
Add your toppings. You can use the toppings we suggested or be creative with your own!