Veggie Pinwheels
Veggie Pinwheels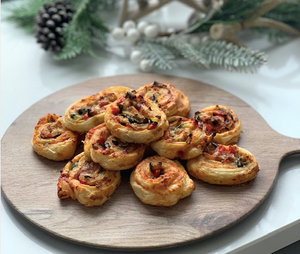 It can often be a challenge to get children to eat veggies, so why not get them involved in the creation of these easy to make veggie pinwheels and make it fun for them, as well as delicious!
Ingredients:
Jus-Roll puff pastry sheet
Tomato Passata
1 Courgette
1 aubergine
1 red pepper
 60g Parmesan Grana Padano - grated
 5 fresh basil leaves (or a couple of pinches of dried basil)
 1 egg (for the egg wash)
Method:
Preheat oven to 220ºC (200 ºC for fan assisted ovens) 425ºF, Gas Mark 7
Chop the courgette, aubergine and red pepper into small chunks.  Chop the basil leaves finely. 
Add the vegetables and basil to a roasting dish and drizzle over a small amount of olive oil.  Roast in the oven for 10-15 minutes.
While the vegetables are roasting, take your Jus-Roll Ready Rolled Puff Rastry Sheet out on the packaging and unroll onto a baking tray.
Spread a thin layer of passata onto the pastry (approximately 4-6 tablespoons).
Take the vegetables out of the oven once cooked and add them on top of the passata spreading them evenly.
Roll the pastry like a swiss roll ensuring the end of the pastry is at the bottom so the roll doesn't unravel when cutting.
Cut into 2cm slices and lay them onto the baking try.
Beat the egg and glaze each pinwheel.  Sprinkle with parmesan cheese and bake in the oven for 15 minutes until the pastry is golden.