Eggs Benedict
Eggs Benedict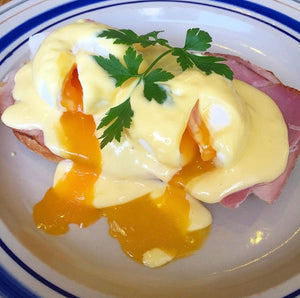 Eggs Benedict is one of our favourite brunch dishes here at Watts HQ! Subsitute the ham for smoked salmon (Eggs Royale) or Spinach (Eggs Florentine) for non meat-eaters.
Ingredients:
Method:
Fill a large pan just over one third full with boiling water and the vinegar. Bring the water to a simmer. One by one, crack the eggs into a small bowl and gently tip into the simmering water. You might have to do this in 2–3 batches, depending on your skill level. Poach for 2–3 minutes. 
Gently heat the Hollandaise sauce in a small pan - don't boil it, it will curdle! Then when you take off the heat, stir in the two additional egg yolks for extra silkiness
Toast the muffin halves, butter them and top with ham. Place an egg on top of each muffin and spoon over some hollandaise.