Vegan Falafel Pitta
Vegan Falafel Pitta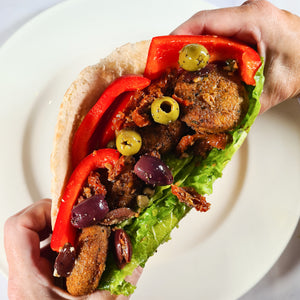 Introducing the Falafel Pitta, a great vegan alternative to a burger or a kebab, with none of the bad stuff in it! We're using our Delphi Falafels, with Houmous, Odysea Sundried Tomatoes, Pitta Bread, and lots of fresh Veggies!
You can shop the ingredients here!
Ingredients;
Method;
Toast the pitta bread and heat the falafels either in the microwave or in a pan
Spread the houmous evenly over the pitta bread then place the ingredients inside like a sandwich
Plate up and enjoy!