Vanilla Syrup Cupcakes with Buttercream Icing
Vanilla Syrup Cupcakes with Buttercream Icing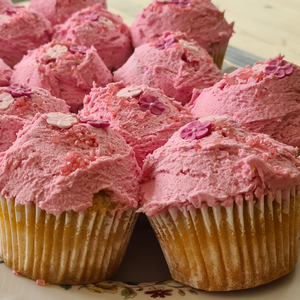 Cupcakes just make everyone's day. These cupcakes have a delicious texture with a vanilla syrup soaked into the cake! 
You can shop the ingredients here!
Ingredients;
For the cake
For the syrup
For the icing
Method;
Preheat the oven to 160°C. Line a muffin tin with large cupcake cases.
Whisk the softened butter and caster sugar. Cream together until pale and fluffy. Add the vanilla, and gradually add the eggs whilst mixing. Mix until evenly combined
Add the flour, baking powder, salt and milk. Fold ingredients together gently until mixed
Spoon in the batter between each case evenly
Bake in the oven for 25 minutes until a beautiful golden brown and a skewer comes out clean from the cake.
While the Cupcakes are baking, prepare the syrup. Add the ingredients to the pan over a low heat and gently stir until completely combined. Then turn up the heat and boil for one minute. Immediately take the pan off the heat.
As soon as the cupcakes come out of the oven, poke holes in them using a skewer and drizzle the syrup into the cupcakes. Use a brush to brush the syrup evenly over the top of each cupcake.
Leave the cakes to completely cool.
Once cool, prepare the buttercream icing. Add the softened butter, vanilla, and icing sugar to a bowl and beat until pale and fluffy, this may take around 5 minutes. Add the food colouring and stir through the mixture. 
Using a spatula or piping bag, frost the cupcakes and decorate!