Isle of Wight Tomato Authentic Greek Salad
Isle of Wight Tomato Authentic Greek Salad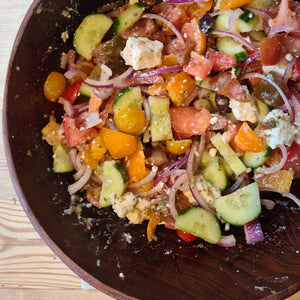 Greek salad using Isle of Wight Heirloom Tomatoes! Such a colourful and sweet dish - bursting with flavour.
You can shop the ingredients here!
Ingredients;
Method;
Chop up the tomatoes into similar size chunks
Place tomatoes into salad bowl and salt the tomatoes 
Using a vegetable peeler, peel the skin of the cucumber, leaving gaps between each peel so that it looks stripy
Cut the cucumber into small chunks and add to the bowl
Chop the red onion into long pieces and break up into the bowl
Add the black olives and the block of feta (whole) on top
Drizzle with lots of olive oil and coat with oregano
When ready to serve, break the feta and mix at the table!