Traditional Paella with Chorizo, Chicken, and Prawns
Traditional Paella with Chorizo, Chicken, and Prawns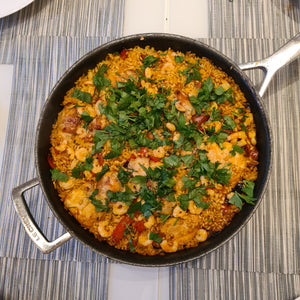 This is one of our favourites. Traditionally, paella includes local Spanish ingredients -whatever they could get their hands on that day. From chicken, to prawns, to rabbit, or even snails... We think we'll stick with chicken and prawns! A truly delicious dish. Serves 4.
You can shop the ingredients here!
Ingredients;
Method;
Chop the chicken into small pieces, dice the onions and chop the chorizo into small pieces.
Prepare the stock, mixing in the saffron - keep warm until use
Season the chicken to taste with salt.
Cook in olive oil in skillet over medium heat until golden brown. Once cooked remove and place on separate plate.
In same pan, add a touch more olive oil and fry the onion in the juices for 1 minute .Add the pepper and fry for 5 minutes.
Add the garlic (crushed), paprika, and tomato puree and cook for a further minute. Add the rice and stir.
Pour in the white wine and add the chorizo, and cook until the liquid has evaporated.
Carefully pour in the hot stock and add the chicken pieces. Increase the temperature to a boil and then lower to a medium heat to cook for about 18 minutes. Do not stir or move the rice.
In a separate pan fry the prawns until cooked through and add when ready. Pressing them into the rice, instead of disturbing the cooking process.
Once the rice has completely absorbed the stock, turn off the heat and let it rest for 5 minutes.
Sprinkle the chopped parsley on top and serve.