Valentines Avocado Heart Toast
Valentines Avocado Heart Toast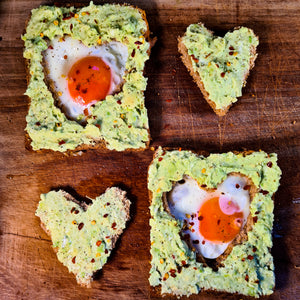 Surprise your other half with a romantic Valentine's Day breakfast of avocado heart toast!
You can shop the ingredients here!
Ingredients;
Method;
To begin, lightly toast your bread (to firm it up but without adding any colour)
Taking a sharp knife or a heart shaped cutter, cut a heart into the middle of the toast. This doesn't have to be perfect (it's the thought that counts)
In a bowl, mix the avocado flesh and mascarpone cheese together (this makes it incredibly creamy and delicious)
Spread the avocado mixture onto the toast 
Heat up a pan on a low/medium heat and place your toast into the pan 
Carefully break an egg into the middle of the heart and cook
Add salt, pepper, and chilli flakes (to taste)
Serve as breakfast in bed and enjoy!