Forced Yorkshire Rhubarb Crumble with Oats and Pecans
Forced Yorkshire Rhubarb Crumble with Oats and Pecans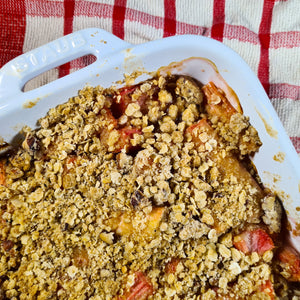 How could we resist a Force Yorkshire Rhubarb crumble topped with oats and pecans? Certainly a dish served best with a warm, luxurious serving of Jude's Vanilla Custard!
You can shop the ingredients here!
Ingredients;
For the crumble
For the filling
Method;
Preheat the oven to 190c. and Butter a baking dish.
Start by making the crumble by simply mixing the ingredients together until combined. Put into the freezer to firm up while making the filling
In a new bowl rub the sugar and cornflour together in a bowl, then mix in the rhubarb and vanilla extract until evenly coated 
Pour the filling into the baking dish and evenly spread the crumble over the top 
Bake for 45 minutes or until the top is golden and filling is bubbling. Leave to call for about 15 minutes before eating.
Serve with warm custard and thoroughly enjoy!