Turkish eggs with chorizo
Turkish eggs with chorizo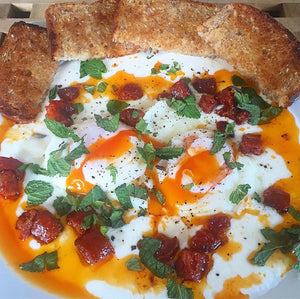 Simple but luxurious, this popular brunch dish is quick and easy to make but sure to impress. Make sure to use really fresh eggs to achieve the best results from poaching!
Ingredients:
(serves two)
Method:
In a frying pan lightly sauté the chorizo over a medium heat until it releases its natural oil. Add the butter and allow to melt and bubble together for 2-3 minutes , then turn off the heat and set aside.


Stir the yogurt and garlic in a bowl to blend. Season to taste with salt. Spoon onto a plate, spreading to coat the centre with a large, thin circle.



Everyone seems to have their own method when it comes to poaching eggs, so we'll leave this bit to you.

Cook each egg for 4-5 minutes total, until the white is cooked and then remove from the water. 

Place the eggs atop the yogurt and spoon the chorizo and butter over the eggs and yogurt, scatter with the chopped mint and serve immediately, with bread or toast to dip.