Rich and Delicious Carrot Cake
Rich and Delicious Carrot Cake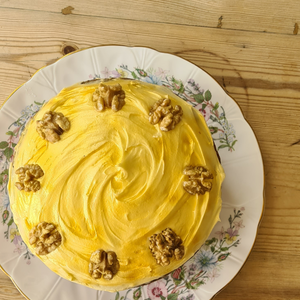 It's coming to that time of year where carrot cakes are coming back into season! We love the sweet carrot, cinnamon and walnut flavours of paired perfectly with the creamy, dreamy icing. 🍰
 You can shop the ingredients here!
Ingredients;
For the cake
For the icing 
Method;
Preheat the oven 180°C
Line two 9" baking tins with baking paper and grease with oil or butter
Lightly beat the eggs and peel and grate the carrots
Mix the oil, eggs, carrots, sugar and orange zest in a large bowl
In a separate bowl mix the flour, salt, bicarbonate of soda and cinnamon. Then sieve into the large bowl with the other ingredients
Lastly, add the vanilla essence and lightly mix the ingredients together
Spoon equally into the cake tins and cook for around 40 minutes
Leave to cool for 5 minutes before turning the cake out onto a wire rack to cool
Once the cake is cool, prepare the frosting by whisking the icing sugar, butter, lemon zest, and vanilla essence
Finally, stir in the cream cheese and spread across the two cakes. Top with walnuts or decorations of your choice
Keep in the fridge before serving!