Bratwurst in beer with onions and mustard
Bratwurst in beer with onions and mustard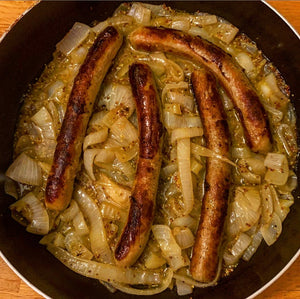 We're delighted to now be stocking Unearthed Bratwurst so to celebrate we braised some with some onions, Hofmeister beer and wholegrain mustard. A real winter warmer!
Ingredients:
Method:
Heat a little EV olive oil in a large high sided frying pan and lightly brown the Bratwurst on all sides
Melt the butter with a splash of EV olive in the pan you browned the bratwurst in over medium high heat.
Add the onion with some salt and pepper then sweat until the onions begin to soften then add in two tbsp of wholegrain mustard
Nestle the browned bratwurst in the onions, add the bottle of beer and bring to a low boil. Reduce the heat to a simmer and cook for 20
Great in buns, with crusty bread as a 'spoon' or served with mash and wilted greens.