Take Me To The Tropics Smoothie Bowl
Take Me To The Tropics Smoothie Bowl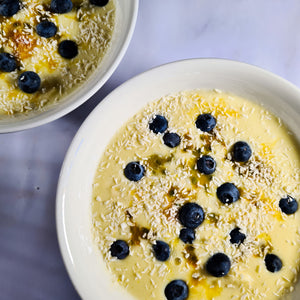 Take us on a trip to the Bahamas! With this Coconut, Mango, and Pineapple Tropical Vegan Smoothie Bowl, we can dream... 
You can shop the ingredients here!
Ingredients;
Method;
Blend the Mango, Pineapple, Bananas, Coconut Yoghurt, and Coconut Milk in a food processor/blender
Pour into a bowl and top with blueberries and passion fruit
Serve and enjoy!