Runner Bean, Walnut and Parmesan Salad
Runner Bean, Walnut and Parmesan Salad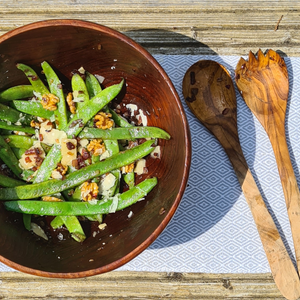 This runner bean and parmesan salad is a fantastic light lunch for warm weather. Alternatively, this would perfectly accompany a BBQ, chicken fillet, or juicy steak. This dish takes about 5 minutes to make but tastes delicious… Enjoy!
Ingredients:
Method:
Cook the red onion and garlic in a wok on medium-low heat until lightly caramelised.
Add the salt and runner beans and cook for around 4 minutes. Finally, add the walnuts and cook for a further 30 seconds.
Remove from the pan and add half of the squeezed lemon juice, extra virgin olive oil, and parmesan.
Toss the salad and then drizzle the remaining olive oil and lemon juice and sprinkle over the parmesan for presentation. Serve hot or cold and enjoy!