Claire Fleming's Pecan & Raspberry Brownies!
Claire Fleming's Pecan & Raspberry Brownies!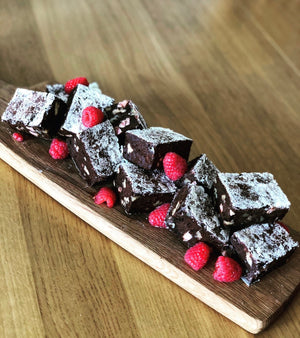 If you thought the UK Raspberry was sweet enough, think again! Pastry Chef, Claire Fleming has blessed us with this super indulgent twist on the classic Brownie and it's not to be missed!
Ingredients;
• 215g
caster sugar
•
3 medium eggs
(150g whole egg)
• 170g
unsalted butter
(little extra for pinning baking dish)
• 65g
cocoa powder
• 170g
dark chocolate
• 85g
pecan nuts
(chopped)
• 50g
willies cacao raspberries and cream white chocolate
( chopped into pieces)
• 65g
plain flour
Method;
• Pre-heat oven to 150*c
• Line your baking dish with a little butter, followed by grease-proof paper
• Gently melt the chocolate and butter together, over a Bain Marie
• Sieve the flour and coco powder together and set aside
• Whisk the eggs and sugar until they have doubled in volume and are pale in colour (sabayon)
• Fold the chocolate and butter mix into the egg mix
• Fold in the flour and coco powder
• Once combined fold in the white chocolate and chopped nuts
• Pour the mixture into the baking dish and spread out evenly and flat
• Bake for 40 minutes, turning the dish around half way through the bake
• Once cooked leave to cool, and then slice into bars and enjoy!