Spinach, Ricotta and Tomato Pasta Bake
Spinach, Ricotta and Tomato Pasta Bake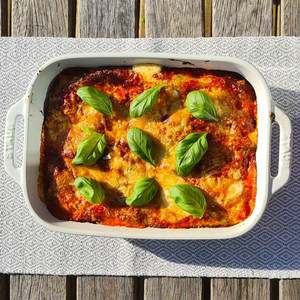 This dish is sure to be a family favourite for vegetarians and cheese-lovers alike! Filling and absolutely delicious, this meal could be served with garlic bread and a fruity red wine.
You can shop the ingredients here!
Ingredients -
Method –
Preheat the oven to 200° Add a small amount of olive oil to a frying pan on a medium heat.
Add the spinach to the pan and season to taste. Cover with a lid and cook for a couple of minutes until wilted. Drain the spinach.
In a bowl mix the ricotta, parmesan, and drained spinach.
Mix the passata in a bowl with the crushed garlic cloves, oregano and sugar. Pour half of this passata into a medium ovenproof dish.
Fill a piping bag (or plastic bag with the end cut off) with the ricotta, parmesan, and drained spinach and fill each cannelloni tube with the mixture. Place the filled tubes in the sauce and pour the remaining sauce over the top.
In a separate saucepan create a bechamel sauce by combining the butter and flour in a pan with a wooden spoon until it forms into a ball. Then slowly add the milk and keep stirring to avoid lumps. Add the nutmeg and salt and pepper to tase. Top the ovenproof dish with the bechamel sauce.
Tear the mozzarella into spall pieces and scatter them across the top of the dish. Lastly, sprinkle the grated cheddar over the top.
Bake for 30-35 minutes until the tubes are soft and the cheese has turned golden.
Serve and enjoy!