Stuffed Yellow Courgettes
Stuffed Yellow Courgettes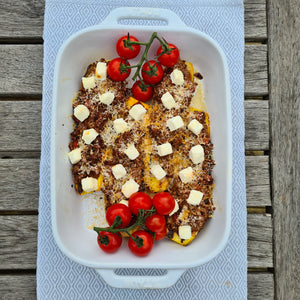 Our beautiful, seasonal, yellow courgettes stuffed with a tomato and meat bolognese sauce, topped with feta and served with fresh tomatoes! Delicious, nutritious and healthy.
You can shop the ingredients here!
Ingredients;
Method;
Preheat oven to 180°C
First create a boat shape in the courgettes by cutting them in half and hollowing out the middle using a spoon
Either grill or BBQ the courgettes on a high heat on both sides for about 4 minutes until browned
Then place the courgette in the oven and cook for 20 minutes
Meanwhile, heat up the leftover bolognese sauce or whip up a quick stuffing by cooking mince meat in tinned tomatoes with your favourite seasonings
Cut the feta into squares and grate the parmesan
When the courgettes are almost done place the bolognese in the courgette boats and sprinkle the parmesan on top, placing feta evenly on each stuffed courgette. Put back in the oven for about 5 minutes.
Once cooked, remove from the oven and serve!