Steak tartare
Steak tartare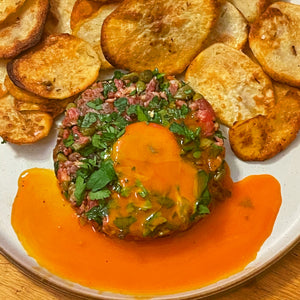 Only a few more weeks until the restaurants are open again, but in the meantime, why not bring the restaurant experience to your own home with a delicious Steak Tartare. We served us with crispy potato slices from Cheshire Farm.
Ingredients:
300g of fillet, sirloin or rump, straight from the fridge
1tbsp capers rinsed and finely chopped
2 shallots, finely chopped
2 tbsp flat leaf parsley
1 tbsp EV olive oil
3 dashes of Tabasco
1/2 tsp salt
20 turns of black pepper 
2 Clarence Court Burford Brown egg yolks
Method:
Trim the meat of all fat and sinew and chop finely by hand or by using the pulse button on your food processor.

Put the meat into a bowl with the capers, shallots, parsley, oil, gherkin, Tabasco, salt and pepper.

Mix together lightly with 2 forks, then spoon into the centre of 2 chilled plates and shape into a neatish round. Make a small indentation in the top and add an egg yolk to each one.