Blood orange syrup
Blood orange syrup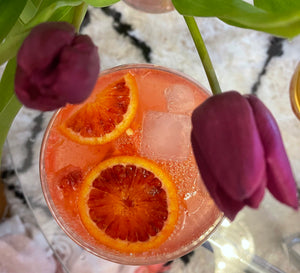 There's only a couple of weeks left of Blood Orange season and we have been making the most of it, we posted a recipe for Blood Orange and polenta cake a few weeks ago, next up is this delicious Blood Orange syrup which can be used for cocktails, mocktails or just added to fizzy water for a refreshing spritz.
Ingredients:
Method:
Place all the ingredients in a saucepan. Heat over medium heat and stir to dissolve the sugar

Bring the syrup to a simmer, skim off any white foam and then let it simmer for about 10-20 minutes, until it reduces to 1 cup of syrup.

Remove the syrup from the heat and let it cool down to room temperature. Pour the syrup into a bottle and store in the fridge until needed. Use within 1 week (if refrigerated).