Asparagus, Leek and Bacon Risotto
Asparagus, Leek and Bacon Risotto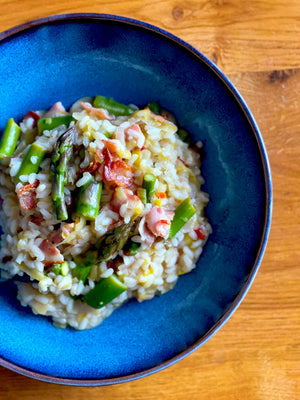 Creamy and rich, this delicious risotto is making the most out of our fresh asparagus. Pair this with your favourite white wine or rosé and enjoy!
You can shop the ingredients here!
Ingredients;
Method;
In a large pan, melt your butter on a high heat and add in the shallots and garlic. Cook until the shallots begin to soften then add in the leeks and cook for around 5 minutes until they have softened
Add in the risotto rice and toast for around 5-6 minutes. Squeeze in the lemon juice and start to slowly ladle in your stock, stirring often
As the rice absorbs the stock, add in a ladle and continue to stir
Just before your final ladle of stock, add in the asparagus to allow it to cook
Once your rice has almost completely absorbed the stock, add in the Parmesan and bacon pieces. Mix in until the rice becomes creamy and serve.