Spicy Butternut Squash Soup
Spicy Butternut Squash Soup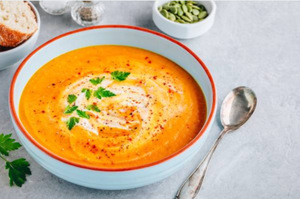 A spicy take on the traditional squash soup, this will definitely warm you up on these cold Autumnal evenings!
Ingredients;
1 large butternut, halved, deseeded and cut into 1 inch chunks
6-7 lime leaves
3 fresh red chillies , deseeded
1 onion , peeled and finely sliced
2 cloves garlic , peeled
1 large thumb-sized piece fresh ginger , peeled
sea salt
freshly ground black pepper
1 small bunch fresh coriander
olive oil
3 sticks lemongrass , trimmed and squashed
1 heaped teaspoon five-spice
1 teaspoon ground cumin
400 ml tinned coconut milk 
drizzle of creme fraiche to finish (optional)
Method;
Pour your stock into a small pan on a low heat, just enough to warm through.
Put a pan on a medium heat to get nice and hot, whilst this heats, add lime leaves, chillies, garlic, finger, lemongrass and a pinch of salt to a food processor. Chop the tops off a few coriander stems, and put to one side, place the rest in the processor and blitz until fine. Whilst blitzing, add your ground cumin and 5 spice with a few good lugs of olive oil.
Pour your mixture into the heated pan, add a splash of stock and fry for a couple of minutes until you get that lovely fragrant smell. Then add in your sliced onion and cook on a medium heat for 8-10 minutes.
Add your diced butternut squash to the pan, stir and coat with the sauce and pour in your stock. Bring this to the boil and then reduce the heat for 25 minutes, or until the squash if a soft texture.
Once soft, take off the heat and blitz with a stick blender until it has a smooth texture. 
To serve, spoon into your bowl, drizzle on some creme fraiche and sprinkle the remaining coriander leaves and enjoy!
We offer seasonal fruit and veg boxes for delivery in Kent for more seasonal produce.