Spaghetti with UK tomatoes, crispy proscuitto and buffalo mozzarella
Spaghetti with UK tomatoes, crispy proscuitto and buffalo mozzarella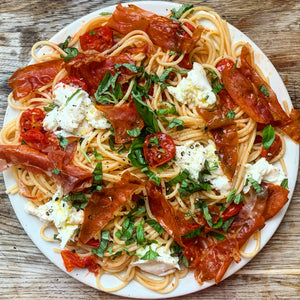 With UK tomato season in full swing and all the lovely weather we've been having making them even sweeter, we're making use of them in every way possible! This pasta with crispy pancetta and buffalo mozzarella is going to be a go-to midweek meal throughout the summer and you can adjust quantities depending on how many you're feeding 🍅

Ingredients:

Method:
Halve the cherry tomatoes and place on a baking tray, drizzle with olive oil and season to taste and then roast in a 200 degree oven for 15-20 mins
Lightly grease a foil-lined baking tray and add the slices of prosciutto to it and put in the oven 5 mins after the tomatoes, keep your eye on it as it can go from perfectly crisp, to charred very quickly!
Meanwhile cook your spaghetti in salted boiling water until al dente (10-12 minutes) then drain and put back in the pot adding a good glug of oil then toss to make sure it's coated evenly.
Add 3/4 of the tomatoes and their cooking juices to the spaghetti and toss until combined.
Portion up the spaghetti then top with the remaining tomatoes, prosciutto, torn mozzarella and shredded basil.