Kentish Strawberry & White Chocolate Cheesecake
Kentish Strawberry & White Chocolate Cheesecake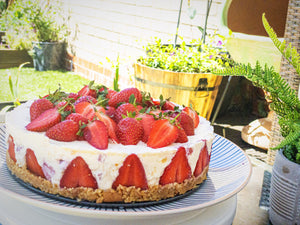 There really is no better Strawberry than a Kentish Strawberry! So what better way to indulge in these beauties than in cake form! A great summer BBQ pudding, and one to wow the whole family!
Ingredients;
Method
Brush the inside of a 20cm cake tin with the sunflower oil, cut out some baking parchment to fit the base of the tin.

Crush the digestive biscuits (the best way is to place inside a small freezer bag and crush with a rolling pin). They should be of sand-like consistency.

Melt the butter in a large saucepan, then stir in the biscuit crumbs and cinnamon. Once combined, press the crumbs into the bottom of the tin. Chill in the refrigerator for at least 30 minutes.

Chop 150g of the strawberries in half from top to bottom, then cut side up, neatly arrange them around the edge of the tin. Chop the remaining berries into small pieces.

Melt the chocolate in a heatproof bowl over a pan of simmering water, making sure the bowl doesn't touch the water.

Beat together the cream cheese, vanilla, lemon zest and honey/maple syrup in a mixing bowl. Stir in the chopped strawberries.

In another bowl, whisk the double cream until it holds a floppy peak.

Fold the melted chocolate into the cream cheese mixture, followed by the double cream. Add more honey if needed.

Spoon the filling into the tin, make sure not to move the strawberries already placed inside the tin. Spread the mixture and level with a palette knife or the back of a spoon, cover with cling film and chill overnight, until firm.

Carefully remove the cheesecake from the tin and put on a serving plate. Slice or quarter extra strawberries to arrange on top for decoration.