Spaghetti and meatballs
Spaghetti and meatballs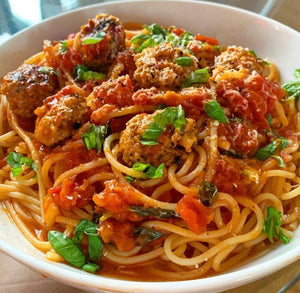 With another lockdown looming and the weather feeling decidely autumnal, comfort food is the order of the day and this spaghetti and meatball dish ticks all the boxes!
Ingredients:
Method:
In a large bowl, combine the mince with bread crumbs, parsley, Parmesan, egg, garlic and 1 teaspoon salt. Mix until combined then form into 16 balls.
In a large pot over medium heat, heat the oil, add meatballs and brown on all sides then transfer to a plate.
Heat the tomato sauce in the pan you cooked the meatballs off in, wait until it's simmering and then add them back in, cover and cook for 8-10 mins.
While the meatballs and sauce are simmering away, cook the spaghetti to taste, then drain and toss in a glug of olive oil to stop it going claggy.
Divide the pasta up into bowls and top with a generous portion of sauce and meatballs, then scatter with parmesan and chopped basil leaves.