Goose fat roast potatoes
Goose fat roast potatoes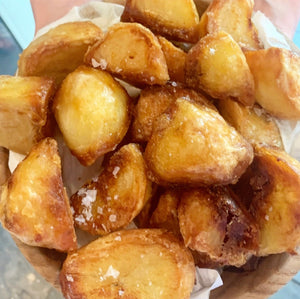 Get your roast potato technique perfected in time for Christmas with our simple method for the crispiest roasties imaginable! 
Ingredients:
Method:
Put the potatoes into a large pan of cold water, bring to the boil and then cook for 8 minutes until tender but not collapsing.

Meanwhile, set the oven to Gas Mark 6 or 200°C. Spoon the goose fat into a large, shallow roasting tin and put in the oven for at least 10 minutes to heat up.

Put the drained potatoes back in the pan, place over a medium heat and shake the pan to "chuff up" the edges to ensure maximum crispness.

Carefully tip the potatoes into the hot fat in the roasting tin and turn them so that they're nice and evenly coated in fat. Roast for 30 minutes, then turn them and cook for a further 20 minutes or so, until they're nice and crisp.