Beetroot pickled eggs
Beetroot pickled eggs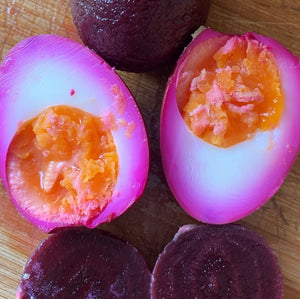 With more time at home during lockdown 2.0 there's going to be lots more snacking on everyone's agenda, and these beetroot pickled eggs pack a punch, flavour and colour wise and will keep for months if submerged in the pickling liquor! We used Burford Browns for their superior yolk colour.
Ingredients:
Method:
Bring a pan of water to the boil and add the eggs. Boil for 6 minutes for a slightly runny yolk – if you'd prefer hard boiled, boil for 9-10 mins
Peel the beetroot and dice before adding to a pan, then add the remaining ingredients to the pan and bring to a simmer whilst stirring to dissolve the sugar and salt. Remove from the heat and allow to cool
When the eggs have finished cooking, put them in cold water to cool, then tap the eggs all over to crack the shell thoroughly, this makes peeling much easier!
When the vinegar solution has cooled, carefully transfer the peeled eggs to a 1 litre Kilner jar (or similar) then pour it over
Place a circle of greaseproof paper on top of the liquid to ensure the eggs are fully submerged 
The eggs will be slightly pickled after 12 hours, but after about 3 days they will be at their prime.