Simple, Seasonal, Scrumptious Rhubarb Crumble
Simple, Seasonal, Scrumptious Rhubarb Crumble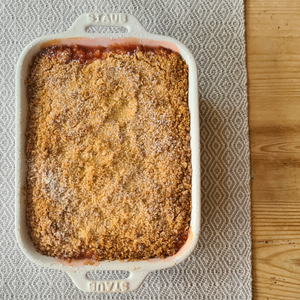 Rhubarb crumble is simple and quick to make but tastes incredible (especially with our own seasonal rhubarb)! This scrumptious spring dessert is best accompanied with Longley Farm Double Cream or Ambrosia Devon Custard.
Ingredients –
Method –
Preheat the oven to 200°C.
Prepare the rhubarb by chopping it into approximately 4cm long pieces.
Add the rhubarb, and 120g caster sugar, and 3tbsp water into a pan. Cover the pan and cook on a low heat for 15 minutes.
While this is cooking, prepare the crumble. In a medium bowl add the butter, self-raising flour, caster sugar, oats, vanilla extract and remaining 50g sugar. With cool fingers mix the ingredients until it looks like breadcrumbs.
Pour the cooked rhubarb into a dish and sprinkle over the topping evenly.
Place in the oven for around 30 minutes or until golden brown.
Serve with custard or cream.