Kentish Cherry Vine Tomato Linguine
Kentish Cherry Vine Tomato Linguine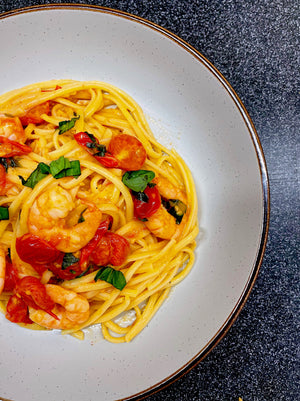 This creamy mascarpone sauce bursting with fresh tomato flavour is another of our British Tomato Fortnight favourites. The perfect addition to a warm, sunny evening!  
Ingredients
Method
Put a pan of salted water on to boil ready for the linguine.
In a large frying pan, add your olive oil and tomatoes, cook on a high heat until the tomatoes begin to wrinkle and release the juices. Stir often to prevent them from burning.
Turn the heat down, add in your garlic and continue to cook stirring often.
Start cooking the linguine, checking on it and draining once fully cooked.
Add your prawns into the sauce and cook until they start to turn pink.
Add in the lemon zest and juice, and add in the mascarpone. Stir until the sauce is completely combined.
Stir in the linguine, ensure it is fully coated. At this point you can add in a little basil to mix in the sauce.
Plate up, and decorate with the basil. And enjoy!